MyData raises the bar on how Web sites are hosted.
Our hosting platform features the redundancy and backup found only at top-level, commercial data centers. Mydata is capable of distributing various areas and functions of your Web site across multiple servers; each one manages a different application for optimum performance. Other hosting companies run numerous applications on one server, thus increasing the likelihood of failure.
MyData lets you focus on your business, not your Web site's uptime.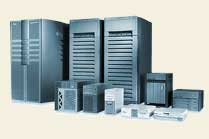 Our system features intelligent Cisco Catalyst Switches, Network Appliance Raid 10 Filers and on-line backup machines with additional disc drives, ensuring that your data will always be available. Even in an extreme case, if one part of our hosting network was to go down, your Web site will continue to operate without loss of any data or prolonged downtime.
We also employ clustering technology to ensure that our network has optimal performance and is scalable, as well as redundant. For instance, we have an extremely robust mail system that utilizes high-performance Linux servers that tie into an EMC enterprise storage system on the back-end to provide high-end intelligent mail services. This includes the latest in spam and virus protection software, configurable through advanced controls available to you, our customer, through Command Console. MyData also has dedicated mySQL servers that are configured with performance-optimized redundant RAID 10 SCSI storage for a best-in-class solution.

On top of our redundant architecture sits the Command Console. The WHM/Cpanel Console puts you in control of the server cluster by allowing you to seamlessly modify entries and settings on DNS, e-mail or file serving clusters.

Our primary equipment is hosted at our main Data Center, located in US, which serves as a major hub for telecommunication providers on a global basis. Power is conditioned, monitored and backed up by UPS and diesel generators. Our multi Tier-1 bandwidth providers include Mzima Networks, which operates over private peering networks to avoid overcrowded public exchanges.